Congratulations, Class of 2020 Graduates!
You persevered and made it to graduation during an unprecedented and unpredictable time. Although we can't celebrate together, we want to honor and recognize your accomplishments.
VIRTUAL FALL COMMENCEMENT CEREMONIES
Congratulations, graduates! This is the moment! You made it!
To help you celebrate this momentous occasion, we have created six special virtual academic college ceremonies for you and your supporters to watch.
These ceremonies feature messages from campus leaders and alumni, memories from your time at Cal Poly, the conferral of degrees and graduate name reading!
College of Agriculture, Food and Environmental Sciences
---
College of Architecture and Environmental Design
---
Orfalea College of Business
---
College of Engineering
---
College of Liberal Arts
---
College of Science and Mathematics
---
CLASS OF 2020 COMMEMORATIVE BOOKLET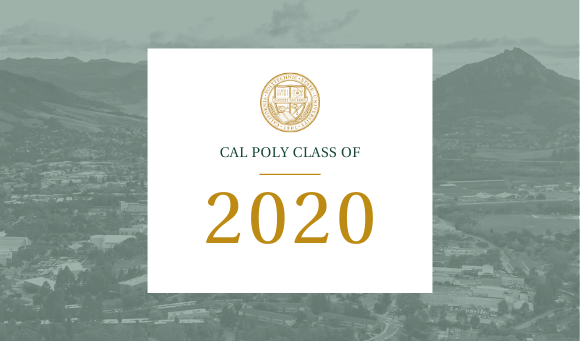 View the Class of 2020 Commemorative Booklet featuring graduate names, messages from campus leadership, keynote speaker information and honorary degree recipients.

---
CLASS OF 2020 GRADUATE SLIDES
View the Class of 2020, find your personalized slide, hear your name read aloud and download to share with family and friends! Graduate slides will be showcased and read aloud during each virtual college ceremony on Saturday, Dec. 5.
Each slide features a graduate name, degree (B.S., B.A., MBA, M.A., etc.), academic department and honors (if applicable). Graduates also had the option to personalize slides with a photo and message. Graduate name will appear by major in the Class of 2020 Commemorative Booklet.
---
SHOW IT OFF
Download banners, lawn signs, social media images, Zoom backgrounds and more to help you enhance your celebration and display your accomplishments. Be sure to tag us or use the #CalPolyGrad hashtag to show us how #CalPolyProud you are in your celebrations. 

---
REGALIA AND GIFTS
Order caps, gowns, tassels, sashes, master's hoods, class rings and diploma frames.
Purchase individual tassels, gifts and alumni gear.                            
Purchase a commemorative T-Shirt with the names of the entire class.
---
SHARE, CONNECT AND NETWORK
Career Connections
Career Connections, our exclusive networking and mentoring platform, allows you to support and engage with current students and network with alumni.
Graduate Status Report
Complete the Graduate Status Report and let us know what you are doing after graduation in terms of employment or your admission to graduate school.
---
STAY INVOLVED
Get involved with your local or affinity-based alumni chapter to network with other alumni, support current students and stay connected to your Cal Poly community.